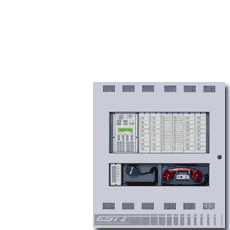 As a mid-range panel with big system features and performance, it's little wonder that EST2 has taken the life safety industry by storm. Its capacity and price make it ideal for commercial installations, and hospitals, and it's a perfect match for schools. But when it comes down to it, typical applications for the EST2 are virtually endless.
Taking full advantage of Signature Series intelligent detectors and modules, EST2 offers the very best in analog technology including automatic device mapping and programming, detailed reports, as well as electronic addressing, which means there are no dip-switches or dials to set. And because its unique communications protocol accommodates traditional hard-wired device circuits, this system is superbly suited to retrofit projects of nearly any size. In fact, the EST2's expansion capacity satisfies the requirements of over 95% of all buildings.
When it comes to flexibility, EST2 pushes the envelope further than any other system of its kind. Its standalone capacity supports 192 intelligent detectors or 600 conventional detectors and 188 intelligent input/output modules, as well as a generous mix of detector bases.
But EST2 really shines when networked to extend its reach even further. As many as five network nodes can combine to support an impressive 960 intelligent detectors, and a whopping 3,000 conventional devices! And nodes drive as many as 30 remote annunciators each with a capacity of 96 input/output functions. Meanwhile, peer-to-peer communication ensures survivability, while three-second-response guarantees unbeatable performance.
EST2's audio features break down even more barriers to mid-range systems with single or dual channel support. Emergency voice paging, evacuation signaling and firefighter's telephones all integrate seamlessly into the system, which supports either distributed or banked amplifiers.
Gone are the days when mid-range life safety systems performed like second-rate installations. With EST2, you get high-end features across the board -- without paying through the nose.

FEATURES:
Supports Signature Series intelligent analog devices
Supports one or two channel audio
Configurable with distributed or banked amplifiers
Supports 96 detectors and 94 modules per circuit
Features a 576-event history log
Includes two integral Class A or Class B Notification Appliance Circuits
Message review queue switches for each event type
History log for up to 543 events - can be viewed and/or printed
Diagnostic reports provide valuable data on system conditions