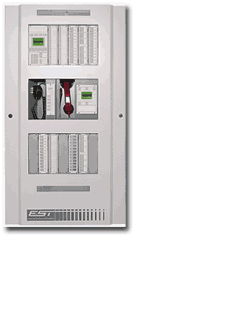 EST3 has both the power and the capacity to handle even the largest installations. Supporting Signature Series multisensor analog detectors on a multi-priority peer-to-peer token ring network, EST3 boasts exceptional alarm response and virtually fail-safe operation. Add Synergy enabled components and you've got the backbone for a totally integrated fire and security network.
An ideal solution for high-rise office towers and campus style installations, the EST3 supports a total network length of an incredible 60 miles and it does this without sacrificing even a nanosecond from its lightning fast three-second response time.
EST3's user interface offers simple yet powerful control and display in any situation. Fingertip operation and intuitive feedback provide the big picture whether the user is in the midst of a crisis, or simply performing routine maintenance. And because EST3 supports a full eight channels of multiplexed audio, there's plenty of capacity to handle communications. Remote annunciators round-out this powerful system so that firefighters, emergency response personnel, and building occupants can all keep in touch when seconds count and information can save lives.
But its modular design is what makes EST3 a favorite with building owners, installers, and property managers: system components are arranged in layers that swing out for easy access; key components feature removable terminal blocks and simple plug-in connectors; and, its modular design means the system can easily keep pace with even the most radical changes to building floor plans.
Extremely flexible, easy to maintain, and a breeze to service, the EST3 is brimming with design innovations geared expressly towards the goal of providing exceptional performance with a minimum of system overhead.

FEATURES:
Supports Signature Series intelligent analog devices
Three second alarm response time
Total network wiring over 300,000 feet
Supports 250 devices per loop, 2,500 devices per node
Automatic device and panel addressing
Eight channels of multiplexed audio
168-character LCD display
Uses existing wiring for most retrofit applications
Slide-in LED and switch labels