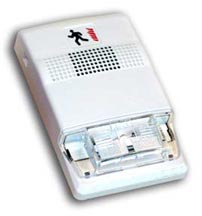 Big features in a small package
The age of bulky, protruding specular reflectors is at last drawing to a close thanks to Genesis wall mount and ceiling signals from GE.
Not much bigger than a deck of playing cards, Genesis wall mount strobes and horn-strobes put emergency signals in a whole new light. In fact, the unique design of Genesis strobes controls and conditions light so precisely that the output from these signals is simply unrivalled.
To accomplish this, we re-invented the visual signal – from the ground up. The result is a powerful range of features and cost saving advantages all rolled into a sleek, attractive design.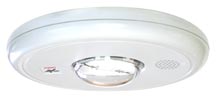 And...just when it seemed like there wasn't another feature that could be packed into the ultra-slim Genesis line of emergency signals, we went ahead and packed 32 selectable operating modes in a single device...
Multi CD capability brings the convenience of on-demand light output settings to every application, allowing you to now use the same model in an unlimited number of locations.
Genesis strobes offer 15 to 110 candela output, which is selectable with a conveniently-located switch on the side of the device. The candela output setting remains clearly visible even after final installation, yet it stays locked in place to prevent unauthorized tampering.
The new low dB setting cuts sound output by 5 dB – ideal for small spaces like restrooms or classrooms where high dB output may cause discomfort among occupants with sensitive hearing, particularly children.
Genesis chimes' 79 dBA (peak) output level makes this device suitable for many private mode applications.
Also added to these new products is an expanded voltage operating range – now 16 to 33 V – which brings these signals in line with the UL 1971 revised standard due to take effect in May 2004.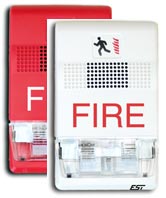 Available in an eye-soothing neutral shade of white or traditional fire alarm red, this line of strobes actually complements the décor without intruding upon it. Even the Genesis "running man" symbol was painstakingly designed to get the message across at first glance without the need to emblazon the word "FIRE" on the walls and ceilings of interior spaces.
Not only does this treatment meet codes and standards requirements, it also overcomes language barriers and eliminates lens marking headaches. Of course, models with the "FIRE" designation are still available for locations that require such labeling.